URGENT
Story
"I fought for nearly 4 years, all on my own, to save my daughter. To keep cancer from taking the only good thing I had left in my life after my husband decided to abandon us when she was just a baby. Until a few months ago I thought I'd succeeded, that I'd been a good mother. But the cancer has relapsed. It's worse than ever before, and I have no choice but to admit that… that this time I won't be able to save my baby's life! I'm having to watch her wither away right in front of my eyes, knowing I can do absolutely nothing about it, all because I'm too poor!"
Total Estimated Cost for Relapse Chemotherapy is Rs: -10,00,000/-…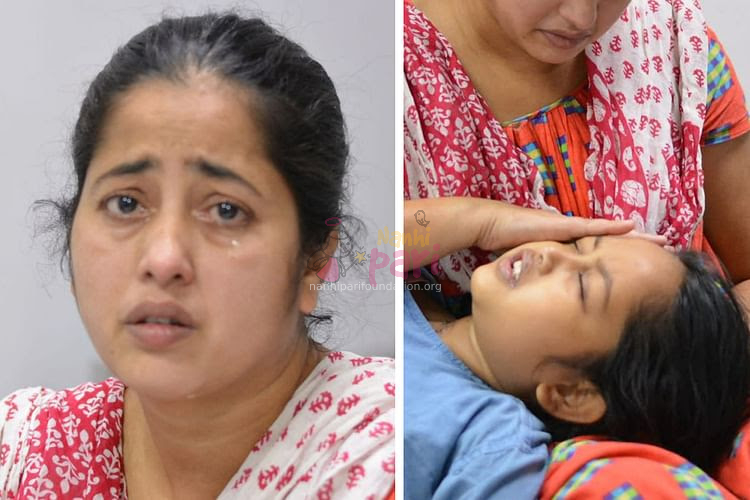 Now 7, Arohi was barely a few months old when her father abandoned her and her mom, with no real explanation or apology. Chancharla had had to move back in with her parents, but her initial shock was soon replaced by the fiery determination of a young mother — she was not going to let her husband's betrayal affect her little sweetheart's life.
I started working as a cook and domestic help for my neighbors, people who had known me from when I was a child. But I felt no shame; all I cared about was earning enough money to take care of Arohi. My parents had already been kind enough to let me come back home and stay with them, but I wanted my daughter to grow up learning that a woman doesn't have to depend on anyone else! And yet, when I discovered she had cancer… It was the most helpless I'd ever felt. Suggested Treatment – Chemotherapy
"It started when she was 2 years old. Constant fevers, a swollen throat; she was always crying! Most of the doctors we took her to said it was her tonsils and tried giving her medicines for that. But nothing worked, for weeks! Finally, a month later, I just couldn't bear to see her in pain anymore so I took her to a big city hospital 6 hours away from my town."
The doctor there had prescribed a test, and Chancharla had dutifully gotten it done and taken the report back to the doctor the next day.
"As I sat there waiting while he went through the file, I remember telling myself that it'd all be okay, that my Arohi would be fine. But then he looked up from the report and said to me that I needed to admit her to the hospital straight away. He told me Arohi had blood cancer, that she was dying. I just… I didn't want to believe it!"

Chancharla has tried her best over the years, but now Arohi needs you
Arohi's condition had seemingly improved after nearly 4 years of chemotherapy and radiation, all paid for through Chancharla's unrelenting efforts and strife. But now her cancer has relapsed.
"After I first got her diagnosis, I started working non-stop, taking on as many jobs as I could find, going to as many houses as I could each day. And I thought all my efforts had paid off! When they told me her condition had improved enough and that treatment could stop, I'd burst into tears because I was so happy. But now her cancer's back a year later, stronger than before, and she needs so much more treatment. I've not had any work in the past year because of the pandemic, how will I save her this time?" — Chancharla, bursting into tears even as she speaks
They have spent a lot of money on the treatment of the child and exhausted all their resources. Now they are unable to pay for the treatment. We request you please save his daughter's life as she is in urgent need.
Nanhi Pari Foundation is a Girl Child Right Organization which works for Education, Health & Nutrition for Girl Child, Other than this we work for early symptoms & Other Causes that are responsible for Heart Disease, Cancer & Other major diseases. Nanhi Pari Foundation's aim is that all girl child realize their full potential support in societies that respect people's rights and dignity. It is an independent organization, with no religious, political or governmental affiliations.
We appeal you to send your contribution by Cheque/DD/Cash in the name of NANHI PARI FOUNDATION to our admin office or handover to our representative volunteers or You can DONATE through your Debit / Credit Card via our website: www.nanhiparifoundation.org Or you can deposit directly in our below mentioned accounts.
THE CHEQUE / DD HAS TO BE IN THE FAVOUR OF "NANHI PARI FOUNDATION"
* We really would appreciate it if you could take care of the entire/part of his/her treatment.
* If surplus amount is received, the same will be passed creating facilities for the betterment of cancer patients.
* Please write the patient's name on the reverse side of your cheque and also your PAN no in case donation is more than Rs.5000/-. The donor should give his/her full postal address and contact numbers if and, along with cheque /draft/cash to enable us to send the receipt of donation.
For any further queries and suggestions kindly feel free to share with NANHI PARI FOUNDATION
info@nanhiparifoundation.org
Donations to NANHI PARI FOUNDATION are eligible for 50 % tax Exemption under Sec 80-G Income-tax Act 1956.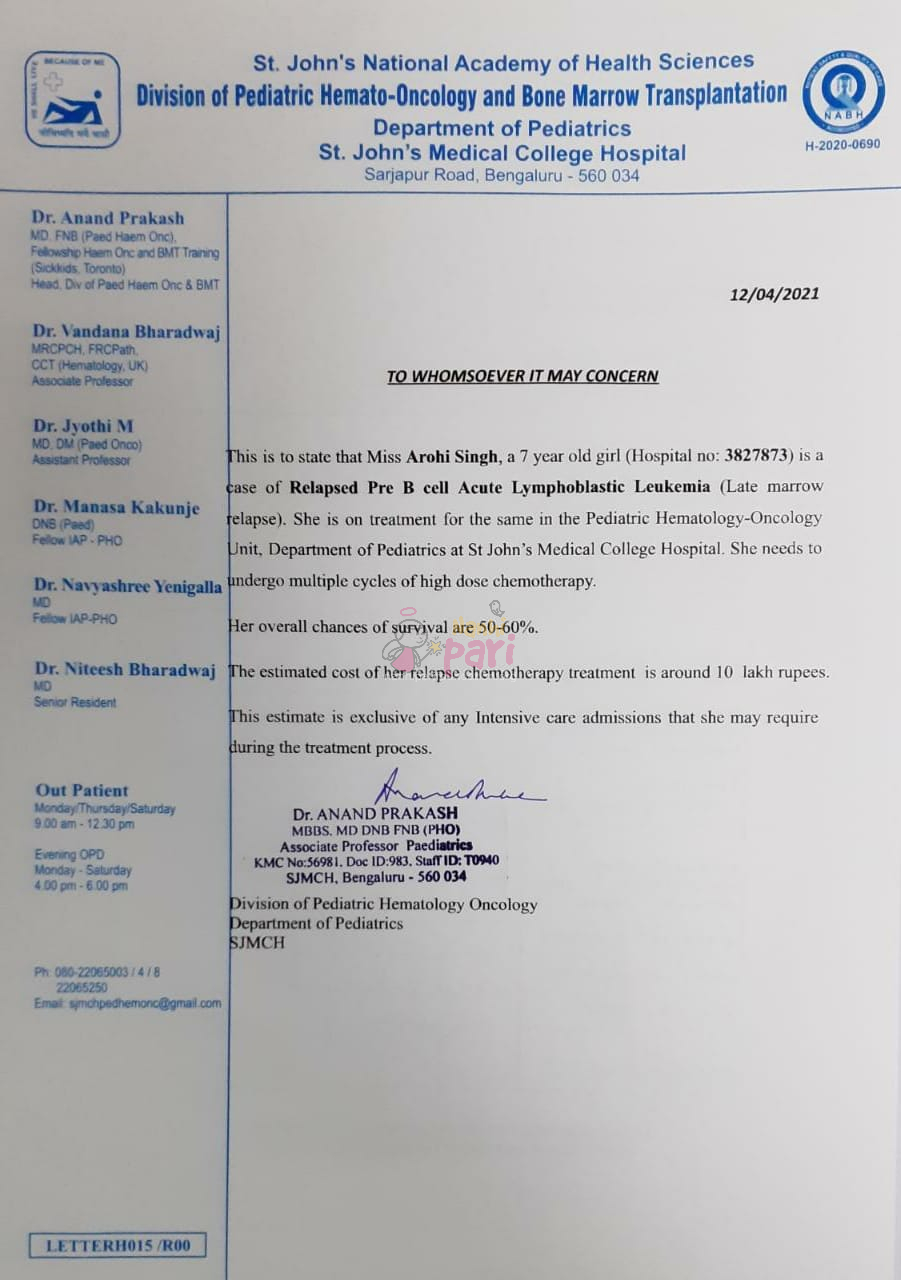 Dear Supporters,
Thank you for all your love and support.
Aarohi Singh is still admitted. Bone Marrow Aspiration was done on 13th May 2021 in order to assess the level of disease.
Further treatment will be planned asper the reports of the marrow evaluation.
On 12th May 2021 the BMT unit celebrated her birthday, which made her and her family very happy and overjoyed.
Once again thanks to all the Donor and Nanhi Pari Team who came forward and help this baby.
We are still short of 83k to pay the total outstanding bill.
Thanks & Regards
Team
Nanhi Pari Foundation
Gpay/ PhonePe/ Paytm
9664278673
---
Dear All,
This is to inform you that Baby Arohi is admitted today for 2nd Cycle of chemotherapy.
We request all donor please come forward and help for this Nanhi Pari.
Thanks & Regards
Nanhi Pari Foundation
9664278673
Gpay / PhonePe / Paytm
---
---
Dear Supporters,
Thank you for all your love and support.
Baby Arohi Singh's 3rd chemotherapy cycle is completed & she is discharged today. She was having some episodes of fever and infection. But stable and improving as of now.
Please pray for her speedy recovery. We are still short of around Rs 63850/- for her final bill settlement and her chemo treatment will be more than 2 years.
Please find baby Arohi's discharge report.
Thanks & Regards
Nanhi Pari Foundation
9664278673
Donate via Paytm/Google Pay/PhonePe